Rodney King's Legacy
(c) Telegraph
Finding Rodney
Roadmast3r
Rodney King died this weekend. Another "victim of racism" at the young age of 47.
He drowned in his home swimming pool, purchased with his $3.8 million legal settlement against the LA Police who were recorded beating him when he was 25. Rodney was reportedly "under the influence" when he stumbled into the pool.
Rodney led an unusual life.
By the time Rodney was 23, he had been married and divorced twice, and fathered three children.
Begins adulthood with robbery/assault
(c) Courier Tribune
Fifteen months before the beating incident, Rodney had robbed a store in Monterey Park, California, where he beat the store owner with a pole, stealing $200 in cash.
He was caught, convicted, and sentenced to two years, but released after serving only one year.
On March 2, 1991, Rodney and his pals Bryant and Freddie had consumed large quantities of alcohol while watching a basketball game on TV, after which they jumped in Rodney's car heading down the freeway, where he caught the attention of California Highway Patrol officers because of his high rate of speed.
The police pursued, but Rodney feared that a DUI arrest was a violation of his parole and would mean a return to prison for the completion of his two year conviction for robbery and assault; so, he stepped on the gas and attempted to flee by exiting the freeway and driving through neighborhoods at speeds clocked at up to 80 mph, and estimated to be as high as 115 mph -- which attracted the attention of several LAPD police cars and one police helicopter -- before he was cornered after the eight mile chase.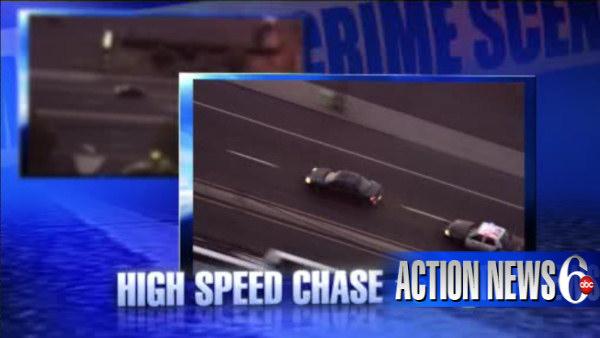 Estimated speeds 115 MPH in neighborhoods (c) ABC Action News
The police ordered the three occupants of the car to exit, and Rodney's pals did so, were cuffed and led away. Rodney initially refused to exit, but eventually did so, giggling, patting the ground, waving at the helicopter, and then reaching behind himself to grab his butt cheeks.
As Rodney was not complying with the order to lie on the ground, Sergeant Stacy Koon ordered four officers to "swarm" Rodney to subdue and cuff him -- during which time he threw two officers off his back and hit a third in the chest, knocking him down.
The violence of his resistance led the police to believe Rodney was on PCP, which causes the user to become completely irrational, violent, and exhibit extraordinary strength.
Still fighting after Taser

(

c) NYPost
SGT Koon then ordered the four officers to withdraw, after which he fired a Taser into Rodney's back, momentarily stunning him; Rodney then lunged at one of the officers, who struck Rodney with his baton, knocking him to the ground.
Rodney again got up, causing the other officers to move in and begin beating him; Rodney continued to try to get up, causing the police to try to kick his legs out from under him to wrestle him to the ground.
Eventually, it took the combined efforts of all seven police officers to subdue Rodney, after which they dragged him to the side of the road to await an ambulance.
Five hours after the incident, blood and urine tests revealed that Rodney had consumed both drugs and alcohol, and his blood/alcohol reading was .19 -- more than double the .08 threshold for a DUI.
The bulk of this incident was recorded by George Holliday from the balcony of his nearby apartment. The video was shown by KTLA-TV, and was then picked up by national and international networks which aired edited segments -- leading to official charges of police brutality and, later, under the Clinton DOJ, federal Civil Rights violations charges, and Rodney's lawsuit.
Jury: Police Not Guilty
In the LA Criminal Court, the jury found no evidence of police misconduct after viewing the video and hearing the testimony of the police and witnesses; the judge dismissed the charges.
Federal charges on SGT Koon and another officer resulted in their convictions for violating Rodney's Civil Rights [not further defined].
His civil suit against Los Angeles won him a $3.8 million award; and Rodney subsequently announced his engagement to Cynthia Kelly, a juror in his civil lawsuit against Los Angeles.
Following the acquittal of the criminal charges against the police officers charged, the Black community broke out in riots, expressing their outrage by smashing storefronts and stealing merchandise ranging from TVs, to microwaves, to refrigerators, and torching stores.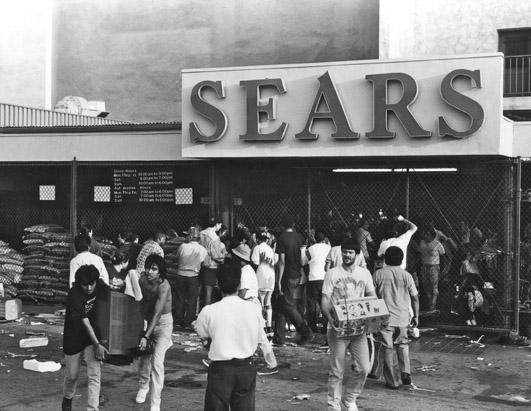 Outrage over Rodney King -- whoever that was
(c) ABC
The riots resulted in 53 deaths, 2,383 injuries, more than 7,000 fires, damages to 3,100 businesses, and about $1 Billion in financial losses.
Many store owners did not reopen, creating significant unemployment, and undermining the local economy for years.
Sympathy riots with similar damage, injuries, looting, and financial loss occurred in San Francisco, Las Vegas, and Atlanta.
Most rioters and looters had no idea who Rodney King was.
Perhaps the only positive of this incident and the subsequent riots was the creation of DOJ's Community Relations Service, consisting of experts skilled in working with communities inflamed by real or perceived racial situations [e.g., Trayvon Martin].
It was highly successful in this endeavor, quelling countless racial tensions around the country, until President Obama restructured it with his own appointees who forced the experts out and used its budget for personal travel and "
executive conferences
". The CRS still exists, but with little more than an internet presence.
Postscript: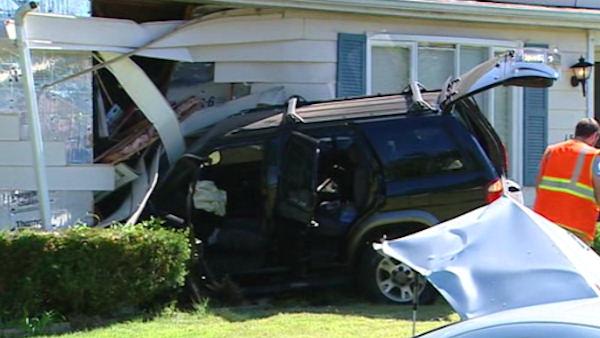 1) In 1993, Rodney smashed his car into a wall in Los Angeles and was placed on probation.
2) In 1995, he was arrested for hitting his wife with his car; he was also sentenced for Hit & Run.
3) In 2003, he was arrested for speeding, running a red light, DUI; he crashed his car into a house.
4) In 2007, Rodney claimed that unidentified assailants shot him with a shotgun [birdshot]; they reportedly were trying to steal his bicycle.
5) Rodney appeared periodically on Celebrity Rehab and Sober House, apparently to highlight his drug and alcohol addiction, and to "
reestablish
" his relationship with his family[ies].
6) He is regarded as a hero in African American culture.